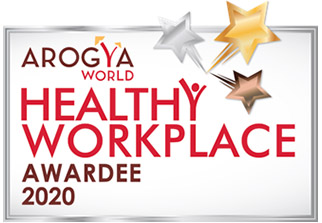 Congratulations to the entire Infoblox team in India, for being recognized by Arogya World, a global health non-profit, as one of its "Healthy Workplaces for 2020"! The team is being recognized for its commitment to the health of Bloxers working in our Bangalore, Trivandrum and Gurgaon offices, and for their efforts to prevent the spread of non-communicable diseases.
In developing the list, Arogya World judged companies across a wide range of criteria, including policies on tobacco use, availability of healthy meals, time for exercise, mental health resources and work-life balance.
As our most valuable resource is our people, we are thrilled to receive this award, which demonstrates our commitment to living our values. We are also proud to advance industry-wide efforts to make workplaces in India healthier places to work.
Experts have recognized that efforts to improving employee health and prevent the spread of non-communicable diseases are critical to increasing worker productivity, building sustainable businesses, and driving India's economic progress. When COVID-19 hit, our local team quickly transitioned the employee base to work from home in order to protect them from potential exposure through the office and the public transportation system that many Bloxers use.
This recognition is a testament to the thoughtful work of our HR benefits and business partners in our Indian offices who are designing policies to keep employees productive and safe during these extraordinary times. Well done!