Many of us have been rethinking our workspaces. Offices in the home are not always the most productive working space. But does that apply to just those of us who typically work in office buildings outside the home? It seems as if permanent remote workers (incl. contractors and consultants) have it figured out. Because humans, for the most part, are nomadic, why is it more difficult for some office employees to adjust to a remote work environment? Maybe it's paradigms.
The first paradigm is we like to be free to roam, yet we long for companionship in a workplace environment. Working from home (WFH) or remotely, we often find ourselves isolated. The COVID pandemic has completely altered our lives and we don't know for how long. I've often wondered if it's a generational thing, or even deeper?   Many of us think we should go to a workplace in the same manner as our parents or previous generations. We watched how they did it and think we should copy their behaviors. But now that times have changed, the pandemic has us reevaluating what is logical for our wellbeing so maybe it's time to rethink what is right for today's working population.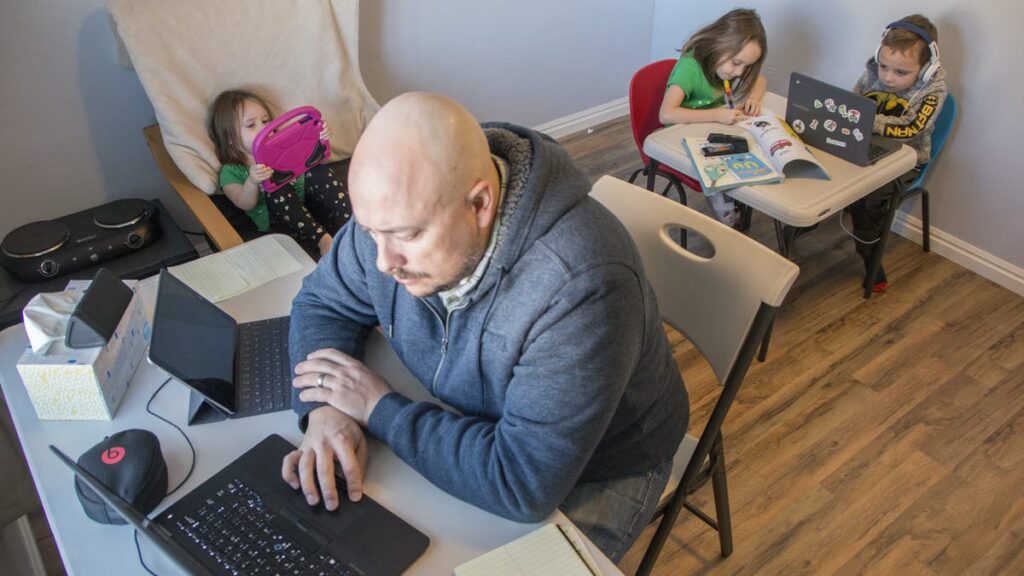 Another paradigm is that we long for personal space, but not at the expense of freely engaging with our communities. The communities we belong to are ones we choose or create. We want to maintain those communities, but not necessarily completely remotely. That's why WFH can be an effort – futile or fortuitous. We should all have options. Maybe that's what permanent remote workers have figured out – their options. They are able to prioritize and manage their needs with their communities (family, colleagues, resource groups, religious or professional affiliations, etc.).
A third paradigm might be the blurring of workspace and home space and how much time we spend in each.  Both are personal yet need balance. A new way to think of this is as a work-life continuum. This is where we must integrate work environments with home environments and the need to separate the amount of time spent in each. It is easiest done if the workplace is in a separate space in the home – not in a central area. If in a central area, work devices need to be stored away sometimes (out of sight, out of mind, they say!). The fatigue of always being "on" as in Zoom conferences is becoming a new stress trigger, as well. But drawing a hard line between work and life is not so simple, especially working globally across time zones. So, to get to the harmony of WFH, we must manage (and limit) the amount of time we spend in each—work and life. Maybe remote workers have figured out how to separate work from life, but with the understanding that the time spent in each is not always in proportion to expectations. Maybe it's about learning how to derive comfort in harmonizing work with life and expecting time spent at each will vary at different times or seasons.
These are key reasons we saw the need at Infoblox to add "Flexible Working Guidelines" to our company's Remote Work Policy. Employees need options. Employees need productive work settings   that support productivity. Workplace flexibility will ensure a balanced approach for a collaborative employee experience among our communities and within our culture.
I would be remiss if I didn't acknowledge our new "office mates" who may not know how to partner with us in our new work environment. Our children, parents, roommates and pets may be disruptive as we try to be "on" at work. Over time we (or they) are adjusting to the new normal, but it's a transition that has not been easy for many.
When we do open up our offices and return to our "new normal" office, we will be figuring out if we need private office space in an office building, workspace at home, or co-working "hotel" spaces. Whatever we choose, we should base it on our individual need for flexibility – knowing our options – so we can live and work harmoniously.
Whatever options we choose, let's remember to maintain community. We must set ourselves up for success no matter where we work from.