Author: Nick Sundvall
1. Overview
On 2 and 3 March, Infoblox observed a malspam campaign that used messages related to Russia's invasion of Ukraine. This malspam campaign was attempting to lure users into opening an attached .xlsx file that downloads the Remcos remote access trojan (RAT). Infoblox has previously reported on malspam campaigns distributing Remcos.1,2
We observed multiple Ukraine-related malspam campaigns within the first week after the invasion. Some of them distribute donation or cryptocurrency scams; others distribute malware, such as Remcos.
2. Customer impact
A German company called Breaking Security has been offering Remcos since 2016.3 One of the versions offered is free and has a limited number of features, and the other version is paid and starts at 58 Euros. Although Remcos is marketed as a legitimate remote administration tool, it is frequently abused by threat actors and used for malicious purposes.
Breaking Security actively maintains and updates Remcos, with the latest update released on 10 February. The capabilities of Remcos include remotely controlling infected computers, logging keystrokes, and taking screenshots.
3. Campaign analysis
In this campaign, the threat actor(s) send messages with a variety of different subjects, including Re: Ukraine war || Order SUCT220002. The body section is always empty. The attached file is named SUCT220002.xlsx.
4. Attack chain
When a user opens the attachment, the file exploits a vulnerability in Microsoft Office's Equation Editor, CVE-2017-11882. The exploit downloads and runs an executable, Oqifkf.exe, from http://136[.]144[.]41[.]109/HRC.exe. This executable then downloads and executes the final payload, remcos.exe, from http://136[.]144[.]41[.]109/file/Oqifkf.png. From here, Remcos reaches out to newremc22.ddns[.]net, a legitimate Dynamic DNS (DDNS) service, to get the IP address of the command and control (C&C) server, 212[.]192[.]246[.]175.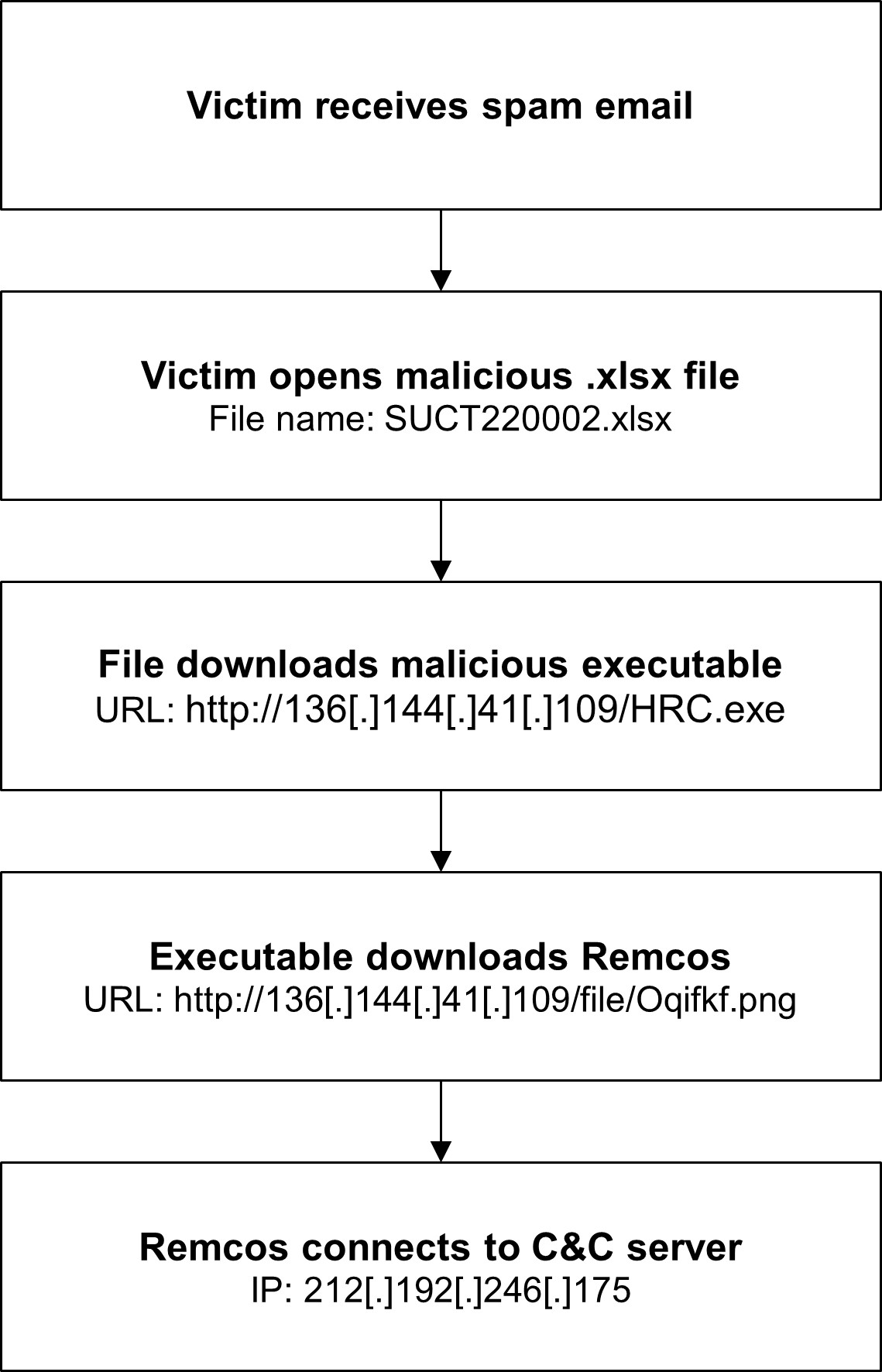 5. Vulnerabilities and mitigation
Infoblox strongly recommends that businesses consider the following security measures:
To block known vulnerabilities that could be targeted by threat actors, keep computers and all endpoints up to date with the latest security patches. A patch for the CVE exploited in this attack was released in 2017.
Always be suspicious of vague or empty emails, especially those with prompts to open attachments or click links.
Scan downloaded files with antivirus software.
Endnotes
https://blogs.infoblox.com/cyber-threat-intelligence/cyber-campaign-briefs/remcosrat-malspam-campaign-spoofs-uae-machinery-company-correspondence/
https://blogs.infoblox.com/cyber-threat-intelligence/cyber-campaign-briefs/guloader-delivers-remcos-rat/
Appendix (downloadable list here)
Representative Indicators of Compromise
Description
Re: Ukraine war || Order SUCT220002

Re: Outstanding payment

OCEAN PILGRIM-PORT CHARGE PAYMENT ADVICE

Blocked Transaction – SWIFT Message Ref: 2092022

Email subject
SUCT220002.xlsx
File attachment name
4907309437e12932d437f8c3ae03fbfde7d4e196b6f1dc7f2d98e3a388ce585c

32b2815cdaadfdd47448673d44b03d480939162234234bf09e74aa8ab936755c

File attachment SHA256
http://136[.]144[.]41[.]109/HRC.exe

http://136[.]144[.]41[.]109/file/Oqifkf.png

Remcos download URL
Oqifkf.exe

remcos.exe

Remcos file name
537288ba6b141a9e76bbd1f77348494c4b3b82bb0c1f0c08afeeb544ccea85e8

706f40859cd3de0725c0c1795e98277d54bbc37ff90fc1e251e2eb99d0e713f0

Remcos file SHA256
newremc22.ddns[.]net
DDNS domain
212[.]192[.]246[.]175
C&C server IP