Author: Victor Sandin
TLP: WHITE
Overview
On 12 April, Infoblox observed a malicious email campaign distributing Formbook malware via Microsoft Office documents containing malicious macros. Emails in this campaign lure victims into opening a spoofed purchase invoice from Hyundai, and into enabling macros to access the document's content.
Infoblox has reported on Formbook campaigns several times in the past;1,2,3 they have had common patterns of financial-themed lures and other urgent topics such as the Coronavirus.
Customer Impact
Formbook is a well-known infostealer and form grabber malware that is sold as malware-as-a-service4 (MaaS) in underground forums. Its capabilities include evasion techniques such as process hollowing, webform hijacking, keylogging and clipboard monitoring, as well as communication with a command and control (C&C) server.
Campaign Analysis
In this campaign, victims received an email urging them to open the attached purchase invoice with the subject line PI Payment. The file attachment was a Microsoft Excel spreadsheet (XLS) containing a malicious macro that connects to threat actors C&C servers and downloads Formbook malware.
Attack Chain
When the victim opens the document and enables macros, the embedded code downloads a portable executable (PE) and writes it to C:\Users\Public\vbc.exe.
Next, the macro runs the executable, which spawns a new Explorer process and injects Formbook code into it using a technique known as process hollowing.
Finally, the malware connects to its C&C server to receive additional instructions.
Vulnerabilities & Mitigation
Infoblox recommends the following to reduce and mitigate the risk of this type of infections:
Be cautious of emails from unfamiliar senders and verify important or legitimate attachments with sender via alternative means (e.g. by phone or in person) before opening them.
Pay special attention to emails with financial or delivery themes which lure users into opening their attachment for full details.
Configure Microsoft Office to disable macros by default and be cautious if the file's only apparent contents are directions to enable macros.
Apply security updates and keep software up-to-date with the latest patches to remove and mitigate vulnerabilities that can be abused.
Increase security awareness in your organization by providing courses to train them on how to identify and notify about suspicious emails.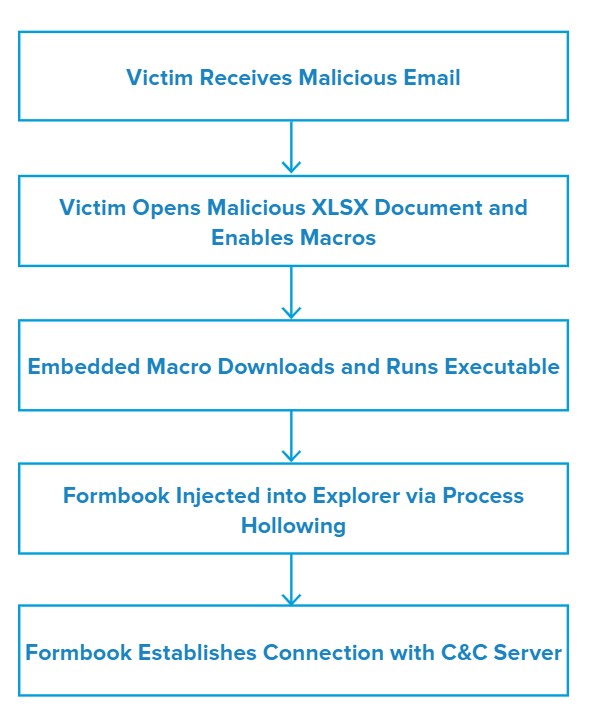 Endnotes