For networking professionals, Infoblox is long known as a mission critical networking company that strips the complexity of managing and scaling enterprise networks and enables the explosive digital growth the world has witnessed over the past two decades.
Today, with over 50% market share, Infoblox Core Networking services remain foundational for many of the world's leading organizations including 9 of the 10 largest businesses on the planet.

These Core Networking services (aka DDI) enable Infoblox customers to transform and modernize their strategies in critical technology areas such as cloud, containerization, AI, Internet of Things (IoT) and software defined networking. Infoblox's aim for simplicity has been achieved!
In parallel – and perhaps less well known – Infoblox has been quietly enabling a positive disruption in the security market.
The background to this mission starts with a surprising truth.
Organizations around the world have been operating with a critical security blind spot.
Cyber criminals are actively exploiting DNS infrastructure to hide from the huge investment in security tools and technology, executing a growing number of damaging attacks. IDC recently noted that worldwide security investments will grow 12.1% in 2023 to $219B.
In response, Infoblox pioneered DNS Security solutions to help its customers see and stop these threats earlier, mitigating this risk to their businesses. The new 2023 Global State of Cybersecurity Study shows that over 90% of organizations now use DNS as part of their security strategy – with Infoblox having driven a DNS Security market today worth $1.4bn annually.
And, this is only the start.
Post pandemic, the move to a more distributed workforce shifted security controls to include managing and monitoring remote employees and devices. To support this, businesses have added significant resources to networks, databases and customer portals. While increasing cloud usage has brought greater collaboration with third parties, managing and monitoring it can be harder to trust.
Working with Infoblox, progressive security leaders see first-hand the potential of context-rich intelligence that sits within networking to help manage this shift as well as solve some of their biggest security challenges, including:
Mitigating the growing risk of data leakage, ransomware and direct cloud attacks
Seeing and stopping threats earlier to limit the cost and reputational damage of breaches
Increasing SOC effectiveness and productivity against a backdrop of limited security resources/talent
Maximizing return on existing security investments and building greater C-Suite support
Fundamentally increasing business resilience
These security leaders are now mission driven to unite SecOps and NetOps in order to best capitalize on this network intelligence opportunity. As a result, the security market is evolving with new categories such as DNS Detection & Response fast emerging. Analysts forecast that Infoblox's addressable market will grow by over $5bn in the next 5 years alone.
In brand terms, it is time to bring Infoblox and this positive disruption into the light, and in doing so, re-position Infoblox in line with what it has become: A leader in Core Networking, DDI and DNS Security markets that is a bold and uniting force for networking and security teams looking to deliver better protection and performance to their organizations.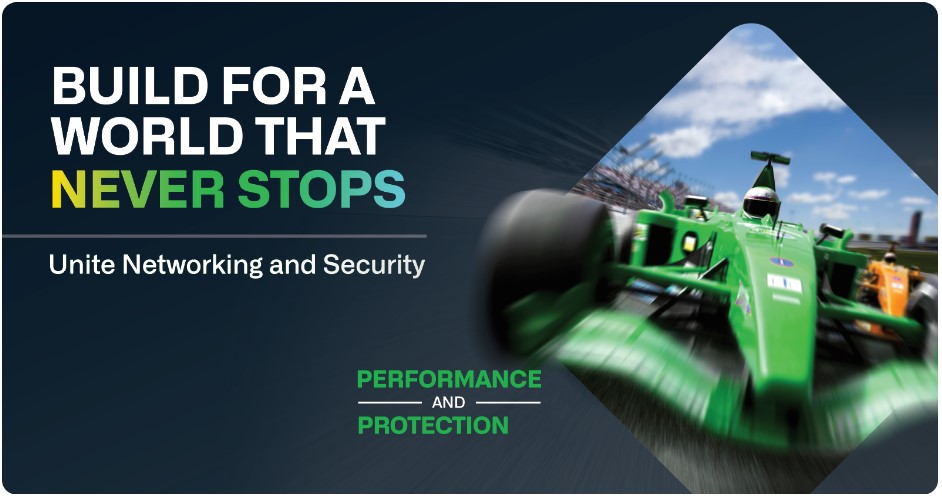 This opportunity to amplify our unique value and reposition Infoblox in the market is one of the primary things that enticed me to become a #Bloxer!
The aim for this rebrand is to verbally and visually represent Infoblox as the modern, authentic, approachable company that we are. One that is true to our roots and proud of our market leadership position, but also an innovative, critical partner in today's fast-moving digital world.
Our purpose is to provide real-time visibility and control over who and what connects to the network, allowing our customers to build safer, more resilient environments. We believe that both performance and protection can be achieved when networking and security work better together.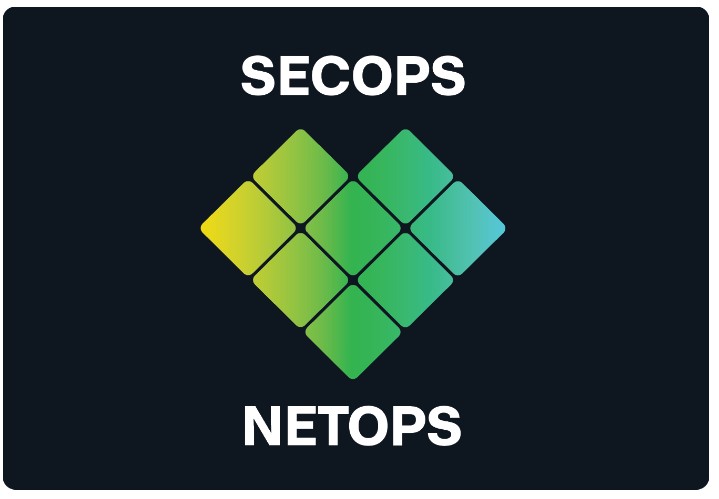 As one would imagine, lots of research, competitor audits, thoughtful considerations and market testing went into developing the new Infoblox brand. It's a lot of work, but it's worth it! We now have a bold, modern, brand that remains authentically "us."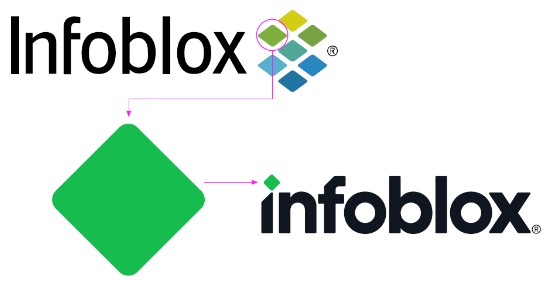 The Infoblox logo has been significantly simplified to help communicate modernization and confidence while staying true to our roots and leveraging some key design elements that pay homage to the brand's past.
The previous mark was inspired by the Infoblox patented grid technology that had been so instrumental in the brand's early success. It included a grid of 7 diamond shapes in a mix of different shades of yellow, blue and green.
The refreshed logo represents the uniting of networking and security with these 7 shapes combining to form a single diamond that becomes a key asset within the wider brand identity system.
The colors in the primary logo and wider palette are also simplified, focusing on a primary green and black, representing our confidence and optimism.
A new, contemporary typeface has been chosen with 45-degree angled cuts on the 'I' and 'f' mirroring the diamond shape. Together, this represents both stability and progression as Infoblox looks to the future to maintain its leadership in established markets and build its presence in new growth areas.
Photography is used to aid storytelling and bring to life key brand themes – a world that never stops and networking and security uniting. Pivoting between these two themes, the style is dynamic and energetic as well as authentic and relatable. The idea of a diamond overlay over photography has been introduced to signal Infoblox's ability to add context and enrich environments.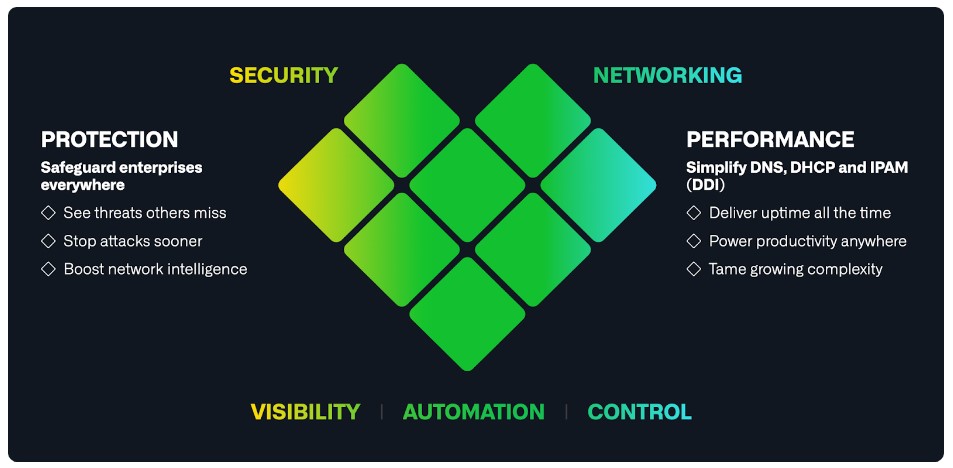 The re-brand also creates an opportunity for Infoblox to celebrate the passion, commitment and diversity of its global employees – the Bloxers – who collectively have such a positive impact on its customers and communities in the 130+ countries where the business operates.
This is an exciting time for anyone working with Infoblox and the new brand asserts the value the business brings through its networking leadership, security innovation and uniting power.
I'm proud to be a #Bloxer
Industry Insights and Perspectives on the Brand: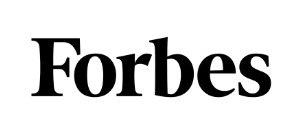 Forbes: "Infoblox's new brand focus of uniting networking security is a laudable objective. There is a real lack of awareness about DNS being one of the most foundational elements to improve security." – Patrick Moorhead
SiliconAngle: Infoblox pivots its strategy to address the unification of networking and security – Zeus Kerravala