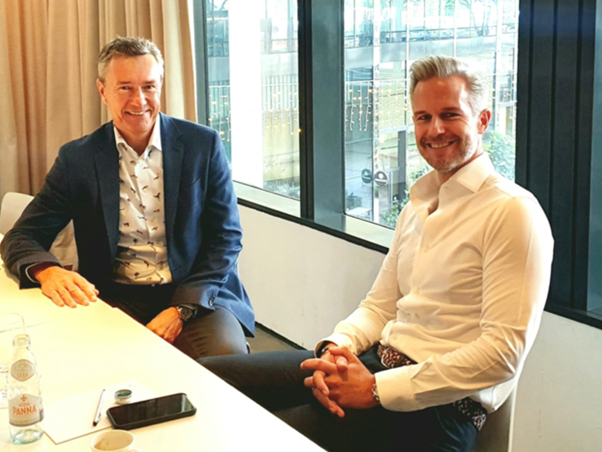 Above (left to right): Jesper Andersen, President of Infoblox and Jesper Trolle, CEO of Exclusive Networks at Singapore's JW Marriot Hotel (South Beach)
I couldn't think of a more exciting location than Singapore to celebrate our incredibly important technology partnership with Exclusive Networks this year, against the backdrop of the Formula 1 racetrack and all the cutting-edge technology the sport represents.
Similar to cybersecurity, milliseconds make all the difference in an F1 race: the difference between a world champion and those who finish second, third, or get relegated altogether.
In our industry, cybersecurity and the protection of sensitive IT network infrastructure, I've seen time and again how important it is for companies to be one step ahead of bad actors, hackers, and cyber terrorists… even if it is only by milliseconds.
It was wonderful to catch up in person with Exclusive Networks CEO Jesper Trolle after two and a half years of COVID-era restrictions.
Jesper and I have a few things in common: a first name, a country of birth (we are both from Denmark), leadership roles at cybersecurity companies, and our belief in the potential of Asia to be a key growth market for the future of cybersecurity.
During our time together, Jesper and I discussed the cybersecurity landscape, some key trends we are seeing, and how we are thinking about the industry's future. Here are a few highlights of our conversation:
Catching up with a cybersecurity peer
The world is changing before our eyes and if COVID has taught us anything, it's that we must all evolve with it.
Remote working and the rapid advancements in global network infrastructure mean that every company, all over the world, is strategically reliant on digital transformation more than ever. It is simply impossible to be successful in business without some level of digital integration, network infrastructure, and cyber capability.
Either because of an evolving customer base, or clients wanting to access services your business offers via the cloud, digital platforms are required for both access and productivity and efficiency reasons at every company.
But this also means that organizations are, knowingly or unknowingly, exposing themselves to bad actors in the cyber world (as the saying goes: there are two types of companies: those who have been hacked and those who know they've been hacked).
During my conversation with Jesper, we agreed that security architectures have moved from relatively controlled environments to an infrastructure of people working via corporate networks that have to be anywhere and everywhere.
While this huge risk for organizations can be seen as an opportunity for cybersecurity firms, there are many evolving challenges that must be rapidly addressed.
The lucrative nature of organized cybercrime
Ransomware attacks on critical infrastructure are always imminent, and the changes in our digital needs are serving as a new opening for cybercrime.
In Singapore alone, ransomware attacks caused business losses amounting to between S$250,000 to S$15.3 million, some of which have even caused consumers to lose up to S$8.5 million in life savings.
Unfortunately, cyberterrorism is a very lucrative business and there are parts of the world where cyber-terrorists are protected by shady governments.
Jesper explained that "there are more and more demands from governments around the world to put directions in place to protect critical infrastructure because it's not simply about money extortion. Even with political conflicts today, we witness that modern warfare is partly fought on the internet, and not just on the physical battlefield."
The Exclusive Networks team is strong in Europe, a market where Infoblox also has a strong presence, though we benefit from our partner's reach in regions where we don't have as much on-the-ground presence.
For example, Exclusive Networks have made long-term investments in Asia and Africa, markets where we are able to collaborate and complement each other by offering Infoblox solutions through their regional networks.
The new reality of workforce cyber infiltration
Did you know that 95 percent of cybersecurity breaches start with a human?
The cybersecurity industry has struggled with a lack of talent for years, and risks are only exacerbated by this lack of manpower.
Breaches are still far too frequent and the speed of cyber incidents is negatively impacting the development of new technologies and solutions. Coupled with the massive lack of talent in cybersecurity, it is simply impossible for the industry's workforce to keep up with the implementation and management of cyber solutions.
We are working with our partners to plug these gaps: while our core expertise at Infoblox has great products and solutions, Exclusive Networks brings to the table deep market reach and opportunities for scale.
Together, we offer a large suite of security solutions and ready-made products that can be seamlessly integrated into any customer scenario and rolled out to resellers across 50 markets.
Partnerships work best if you can build on trust and rapport over long periods of time (these things are not established in a day) and I'm proud to say that's exactly what we're doing with Exclusive Networks.