In the wake of the major social and political changes that have taken place over the past decade, and especially over the past year, companies around the world are taking meaningful steps to increase diversity, equity and inclusion in the workplace. So too is Infoblox. 
I am proud to be joining the Infoblox family as part of the company's commitment to addressing these necessary and important issues. I will be working closely with Norma Lane and the Infoblox People and Places team, as well as the rest of our leadership, to expand our efforts across our global community to create a more diverse and inclusive work environment—one where every Bloxer no matter where they are located in the world shares a sense of belonging and purpose.
I am joining Infoblox from Hyundai Motor America, where I was Director of Diversity & Inclusion, Government Relations and Corporate Social Responsibility. I was also Executive Director of Hyundai Hope On Wheels, a non-profit organization that helps kids fight cancer and the Executive Director for the Genesis Inspiration Foundation, which funds STEM programs. Outside of work, I enjoy cooking, red wines, old movies and doing anything with my 4-year old grandson.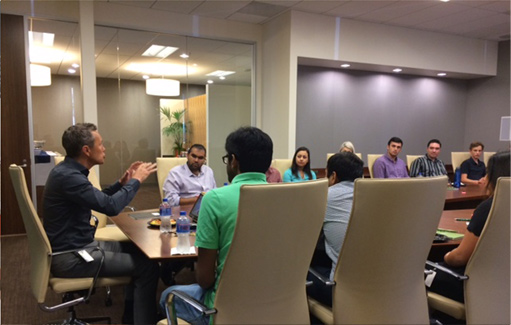 Joining a tech company like Infoblox is a bit of a change, and a very exciting transition for me. But I love what I have seen here so far. Throughout my interview process, it became abundantly clear to me that Infoblox genuinely values their D&I initiatives, and I am looking forward to strengthening these important programs. I'm energized by the path before me. In the coming weeks, I will be collaborating across our diverse and far-flung Bloxer community to create initiatives that celebrate the different backgrounds, ideas and lived experiences of our employees and business partners. Our people are the source of our strength, and our corporate culture is built on core values of embracing diversity and respecting differences.
 As is the case with anything new, I'll be working on getting to know the Infoblox family and leadership team, asking questions, and building out the D&I strategy. It will be important to ask ourselves: What are we doing and why are we doing it? What is our goal? How can we connect with one another and build our global community through the Infoblox brand? If we want to become a trusted brand in the marketplace, we must present ourselves accordingly, and differentiate ourselves by doing things that other companies are not.
 So there is much to do, but the good news is that this important effort has already begun. I am thrilled to be joining Jesper, Norma, and the rest of the team here to help ensure that Infoblox is as welcoming and supportive to all Bloxers as we know this great company can be. And of course, I am looking forward to meeting as many of you as I can over the next several weeks and months.