Black Hat USA (August 1-6, 2020) will be entirely virtual for the first time in observation of the COVID-19 shutdown. Despite the virtual element, attendees will still have access to the world's top cybersecurity experts presenting the latest research, solutions and strategies to stay ahead of today's evolving cybersecurity threats. 
Register here today and read on to learn more about what you can expect from Infoblox at the conference this year.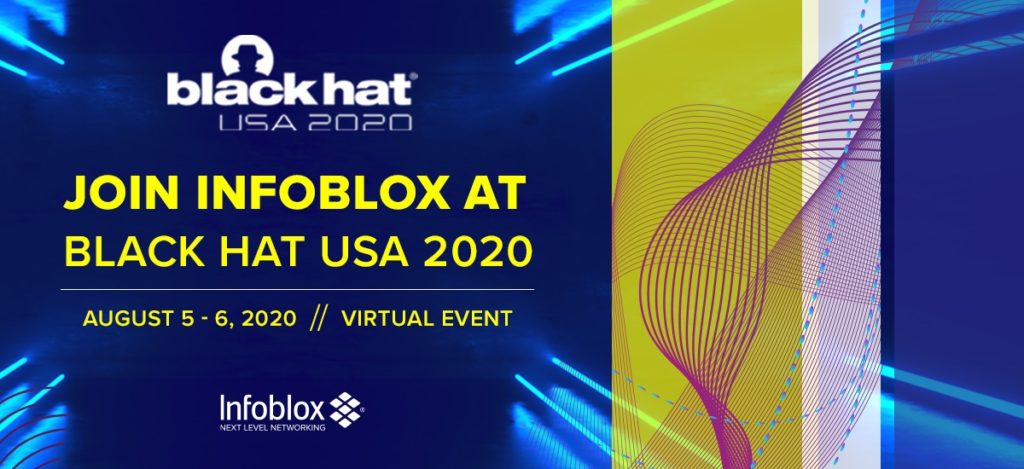 Virtual Business Hall
Infoblox is a Silver Sponsor of Black Hat USA 2020. Meet with our team of security experts in the virtual Business Hall on August 5 and 6 from 8:30am-4:00pm. It's free to register for the Business Hall this year, so don't miss out!
Connect with the Infoblox team to learn more about how you can optimize your cybersecurity investments, secure remote workers in the migration to cloud and hybrid infrastructure, and discover what makes Infoblox a Forbes Top 10 Cybersecurity company to watch. Used by 70% of the Fortune 500, Infoblox provides foundational security that works with your existing security infrastructure to detect and mitigate threats faster than traditional defenses alone.
Request 1:1 meetings with Infoblox at the show to learn more about our cloud security solution and taking your security strategy to the Next Level. Connect with a member of the Infoblox team to discuss your cyber defense needs and pain points. Also, be entered to win one of two pairs of Bose Wireless Headphones by engaging with us at our booth!
Infoblox Sponsored Session
Using Lookalike Domain Detection to Identify Attacks Before They Launch
Druce MacFarlane, Senior Product Manager, Threat Intelligence and Analytics, Infoblox
Thursday, August 6 @ 10:20am-10:40am
Lookalike domains are used as a tool to launch phishing and watering hole attacks. Automating detection of newly reserved or newly observed domains designed to appear like trusted properties can help create enforcement policies that block attacks before they launch or even exist in the real world. Learn more here.
Arsenal Session
ioc2rpz: Where Threat Intelligence Meets DNS
Vadim Pavlov, Senior Product Manager, Infoblox
Wednesday, August 5 @ 12:00pm-1:00pm
With 80% of malware moving through DNS, it is the control plane of the Internet and provides unprecedented detailed views of applications, devices and even transferred data going in and out of a network. ioc2rpz is a DNS server that automatically creates, maintains and distributes DNS firewall feeds to enable easy integration with threat intelligence platforms. Learn about using DNS for threat remediation here.
Connect with Infoblox on Social Media 
Connect with Infoblox on Twitter, LinkedIn and Facebook. Use the hashtag #BHUSA to join the #security and #infosec conversations. 
See you at the virtual show!