The NIOS 8.5.2 Amazon Machine Image (AMI) is now available in the AWS Marketplace: Infoblox vNIOS for DNS, DHCP, and IPAM
With this release, you can view and deploy vNIOS for AWS from the Marketplace, or directly from your AWS EC2 Dashboard.
In addition to Marketplace availability, NIOS 8.5.2 brings enhancements to security, capability, and functionality for vNIOS in AWS.
Infoblox Trinzic TE-V4025 Virtual Appliance with Support for IPv6 Networking
With NIOS 8.5.2, the TE-V4025 virtual appliance has been added to the models available for deployment on AWS, giving you additional flexibility in choosing the right virtual appliance for your workloads. The TE-V4025 is a high performance virtual network appliance providing core services, including DNS, DHCP, IPAM (IP Address Management), and NTP. The TE-V4025 can operate as a Grid member or Grid Master for your Infoblox Grid.
The new TE-V4025 virtual appliances are the first Infoblox appliances available on AWS to support IPv6 networking. These appliances can use IPv6 to provide services and for Grid communication, allowing you to join them to your dual mode or IPv6 only Grids. For details on configuring IPv6 Grids, refer to NIOS documentation at https://docs.infoblox.com. 
Default SSH Access Using Key-Pair Authentication
To enhance security, Infoblox vNIOS for AWS instances now use key-pair authentication as the default for SSH to new virtual appliances. 
The easiest method to add a key pair for authentication is while deploying your new instance in AWS. You can select an existing pair or create a new one as part of the deployment.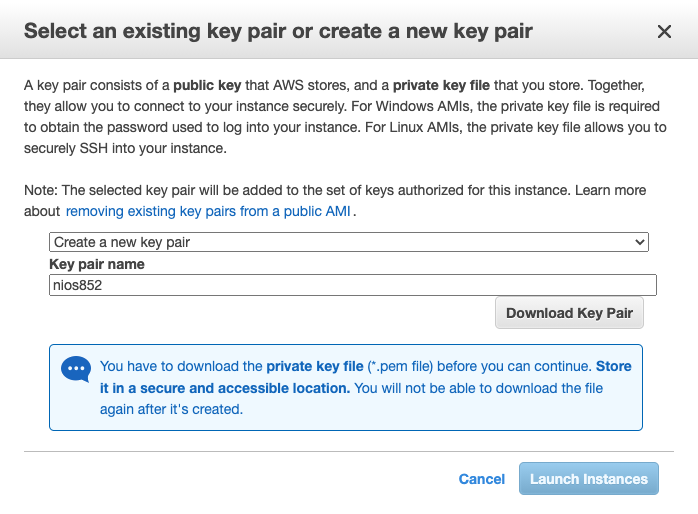 The public key you choose or create in AWS will be added to the default administrator account in NIOS during deployment.

You can add public keys for an administrator or change the default authentication method by navigating to the Administration → Administrators → Admins tab in Grid Manager and editing the properties of your user.
Change Default Password on Initial Login
As an additional security measure, new Infoblox NIOS virtual appliances deployed in AWS require the administrator to change their password on the first login. The new password must meet default length and complexity requirements.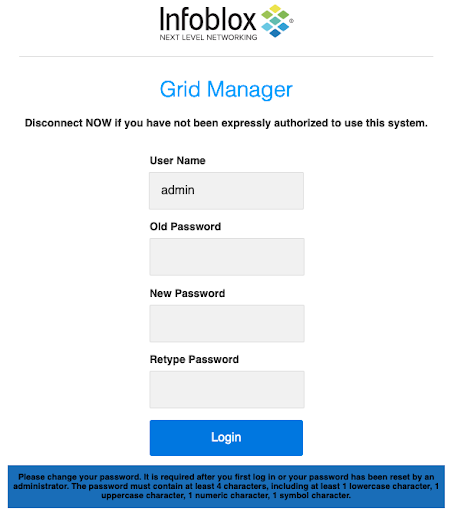 The password change requirement only applies when logging into the Grid Manager interface of new stand alone appliances. For appliances joined to your existing Grid, administrators and their passwords are managed through the Grid Master.
Infoblox continues to expand functionality, capability, and security to meet evolving needs in public cloud environments. Deploying NIOS virtual appliances in your VPCs is a great way to expand your enterprise grade DDI and cloud automation into AWS.
Take a look at the deployment guide to get started with vNIOS for AWS: https://insights.infoblox.com/resources-deployment-guides/infoblox-deployment-guide-deploy-infoblox-vnios-instances-for-aws