Digital transformation has drastically changed the landscape for critical network services. SaaS applications are everywhere, and organizations are using more than one vendor to manage core networking services, including DNS, DHCP and IP address management (aka DDI). In order to reduce the costs associated with these services, mid-size to large enterprises are using freeware services bundled with Microsoft Windows DNS and DHCP servers.
A few decades ago, the networking landscape was far simpler than it is today. Back then, it was easy to assign and manage IP addresses for your Microsoft infrastructure or any network. Spreadsheets and manual processes were enough to manage routine network tasks. Jump ahead to today. Can you grow and scale using those same tactics in this digital era? Not when you have hundreds or thousands of devices on your network, and the introduction of IPv6 protocol opens literally trillions of new IP addresses. Limitations in Microsoft IPAM can result in IP conflicts, slow networks and outages.
This article will explain how to address the challenges with Windows Server management and how to make the best of your Microsoft investments.
The Hidden Cost of Freeware: Understanding the Limitations
Are you considering modernization? Many organizations are adopting new technologies —virtualization, private cloud, public cloud, SaaS and IPv6—to stay ahead of the competition. Freeware can't support all of these new initiatives. While its initial costs seem lower at the outset, the daily costs and challenges far outweigh the "free" advantages.
Have your Windows and NetOps teams experienced any of the following?
Lack of Visibility: While Microsoft provides some discovery, it cannot provide visibility across Layer-2 and Layer-3 assets which are essential for troubleshooting network issues and outages.
Deployment Complexities: Microsoft IPAM cannot run on the same server as DHCP. Five servers are required to run core network services, adding hidden costs of complex DDI architecture including administrative overhead, periodic maintenance, conditional forwarding and delegation.
Active Directory (AD) Replication Delays: DNS configuration delays across Windows Servers can range from minutes to hours. It is even worse for global deployments, adding costs and impacting user experiences.
Network Misallocations: Without the tools to confirm allocations of networks to AD, networks can be misallocated, increasing the cost and work required for resolution.
Cross-Functional Dependencies: The DevOps team relies on NetOps and Windows team responses to configure DNS. Often, SLAs cannot be met because of limitations in freeware tools, such as a lack of API documentation, integrations, etc.
The Solution: Unified Management of Microsoft and Non-Microsoft Domains
Partnering with Microsoft, Infoblox allows you to retain your existing Microsoft-based DNS/DHCP servers, solve IPAM limitations and challenges and adapt to new technologies. Extending the capabilities of your Microsoft solutions in this way enables you can keep pace with increased IP address, demand, scalability, redundancy and security needs. Plus, you don't have to manage multiple logins for multiple AD forests.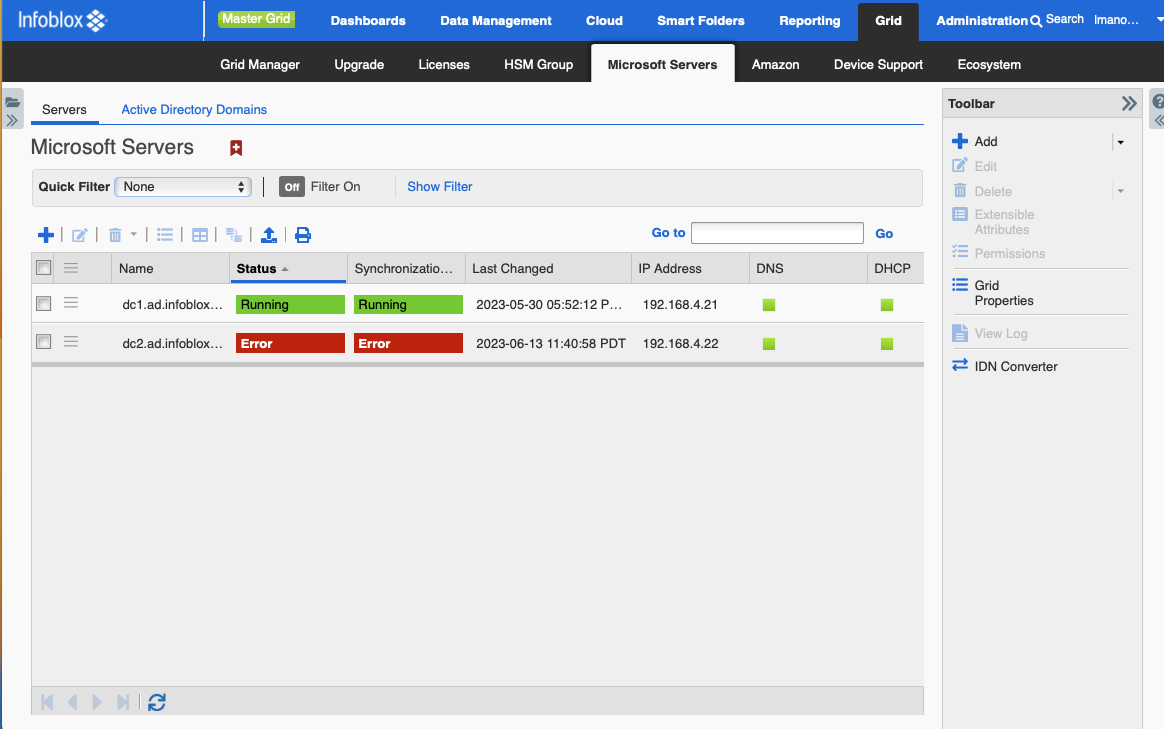 How It Works
Infoblox Microsoft Management provides a non-intrusive overlay with no installed agents, leveraging the native program calls used by Microsoft. All DNS changes made through Microsoft are automatically reflected in Infoblox with bi-directional synchronization. It provides complete visibility across Microsoft and non-Microsoft domains from a single UI:
Network Discovery: Auto-discovery of all networks, IP addresses, Layer-2 and Layer-3 devices (switches, routers, firewalls, wireless access points, Linux, Microsoft, Windows, etc.), private and public clouds, IoT devices and more give your NetOps and Windows teams concurrent visibility and control across your network.
Centralized Visibility across On-prem and Cloud: Single control-plane visibility into Microsoft DNS/DHCP servers and networks across non-Microsoft networks, private, public, hybrid, multi-cloud, and virtualized networks.
User Identity Mapping: Historical and real-time contextual data, allowing quick identification of which user's account or device has been compromised.
Role-Based Access Control: Cross-team collaboration across Windows, NetOps, DevOps, and Security teams. You can get granular control over security policies that are not available on a Microsoft server.
Integrated Reporting: Delivers summarized, forensics, and predictive analytics. Simplify and automate auditing and compliance requirements.
Microsoft Management for the latest Windows Server 2022 with NIOS 8.6.3
Infoblox extends the support for Windows Server 2022, their tenth and the latest major release of the Windows Server operating system by Microsoft. While market competitors are discontinuing Microsoft Windows Server support, Infoblox continues to support concurrent management of all of the features and functionalities offered in Windows 2022 DNS and DHCP servers with the new NIOS 8.6.3 release.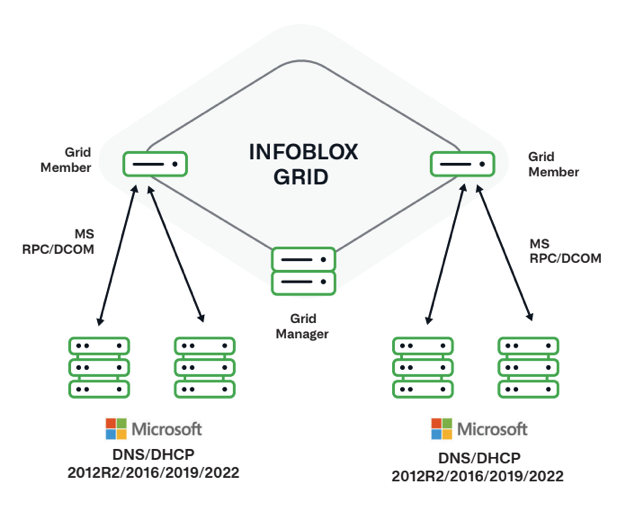 It provides enhanced customer visibility to avoid IP DNS conflicts and network outages, automated syncing of DDI components, user identity mapping, cross-team collaboration, and control across Microsoft and non-Microsoft domains.
Conclusion: Better Together
Networking teams need the right tools to better manage their current network infrastructures and adopt new technologies for the future without system setbacks. If you are ready to replace error-prone spreadsheets, manual tools and processes, avoid network conflicts and outages, reduce and avoid hidden costs and are actively pursuing the advantages of modern workplace transformation, consider Infoblox's IPAM for Microsoft. It not only allows you to retain existing Microsoft infrastructure and enhance the value of your existing Microsoft investment, it gives you the automation and agility you need to keep pace with digital transformation.