Introduction
Network modernization is growing at an implacable speed. Globalization, multi-cloud expansion and cyber security demands are changing the priorities of network teams. In addition to availability and performance, enterprises are looking for a reliable, scalable and flexible solution to meet their changing and growing business requirements. Infoblox's next-generation Trinzic appliances address customer needs and challenges by providing reliable, security-hardened, automated, highly available and easy-to-manage machines that power core network services, security, cloud and value-added services.
The new Trinzic X6 physical and software appliances are built for a world that never stops. Infoblox delivers a platform with all the capabilities you need to see, secure, analyze and manage your on-premises, private, public, hybrid and multi-cloud networks. As a result, customers can accelerate innovations, modernize their infrastructure and embrace the cloud while future-proofing their critical network infrastructure.
This article outlines what's new in the latest Trinzic X6 appliances and software licenses, technical specifications and models and the advantages of Trinzic X6 appliances.
Announcing Trinzic X6 Appliances in NIOS 9.0.1
Infoblox is excited to announce the new Trinzic X6 physical and software appliances in the latest NIOS 9.0.1 release. Network Identity Operating System (NIOS) is the operating system that powers Infoblox critical network services, including DNS, DHCP and IP address management (aka DDI), ensuring non-stop operation of network infrastructure.
Infoblox's Trinzic X6 appliances optimize market-leading critical network services with improved DNS and DHCP performance, provide additional cost-saving capabilities and simplify management for hybrid and multi-cloud networks. Infoblox's Trinzic X6 appliances run on NIOS 9.x or higher and provide:
Performance: Gain up to 50 percent better DNS and DHCP performance over prior models and boost performance for Network Insight and Reporting and Analytics.
Capabilities: Access cost-saving NIOS 9.0.1 with its inclusion of more capabilities: Cloud Platform API, DNS firewall (RPZ) and DNS Traffic Control licenses and multi-power supply options.
Simplification: Improve operational efficiency and reduce costs with fewer models, allowing you to run DNS/DHCP Grid, network discovery or reporting on a single X6 model.
What's New in NIOS 9.0.1
The Trinzic X6 platform optimizes critical network services and additionally includes licenses for cloud API automation, global server load balancing and the DNS firewall. Here is the summary of included licenses in NIOS 9.0.1:
Infoblox DDI Grid (DDI GD License): Infoblox's DDI Grid includes DNS, DHCP, IPAM, Grid, APIs, private and public cloud, vNIOS hypervisors, integrations and orchestration and logging.
Cloud Platform API Automation (CP API License): The Cloud Platform API license improves data center scalability and resiliency by allowing for local automation of IP address and DNS record management while distributing DNS/DHCP services locally to a data center or cloud environment.
DNS Firewall (DFW License): DNS Firewall enables response policy zone (RPZ) capabilities that can help to contain and control malware by integrating with optional BloxOne® Threat Defense by detecting and disrupting malware communications with command-and-control (C&C) servers and botnets. DFW in conjunction with the IPAM data in the Grid can detect infected devices by leveraging DHCP fingerprinting for remediation, reducing threat impact early in the cyber kill chain. DFW also enables DNS redirection, allowing administrators to redirect domains a company doesn't own.
DNS Traffic Control (DTC License): DNS Traffic Control is an integrated DNS global server load balancing (GSLB) solution that delivers business continuity through application availability, reliability and seamless failover. It distributes network traffic across geo-diverse, on-premises and cloud environments for business-critical applications without the need to manage a separate platform for updates, configurations and deployments.
Benefits of Trinzic X6 Appliances
Scalability and Flexibility: The Infoblox Trinzic X6 appliance family offers a wide range of models that are designed to deliver the performance, capacity and availability required in each unique environment to meet today's business needs and scale for the future.
Trinzic X6 appliances offer deployment flexibility as physical or software appliances. The 9X6 appliances are designed for small organizations or remote sites. The 15X6 and 16X6 appliances are for medium-size and commercial organizations. The 23X6 appliances are for large organizations, while the 41X6 appliances are for use by extra-large enterprises and service providers.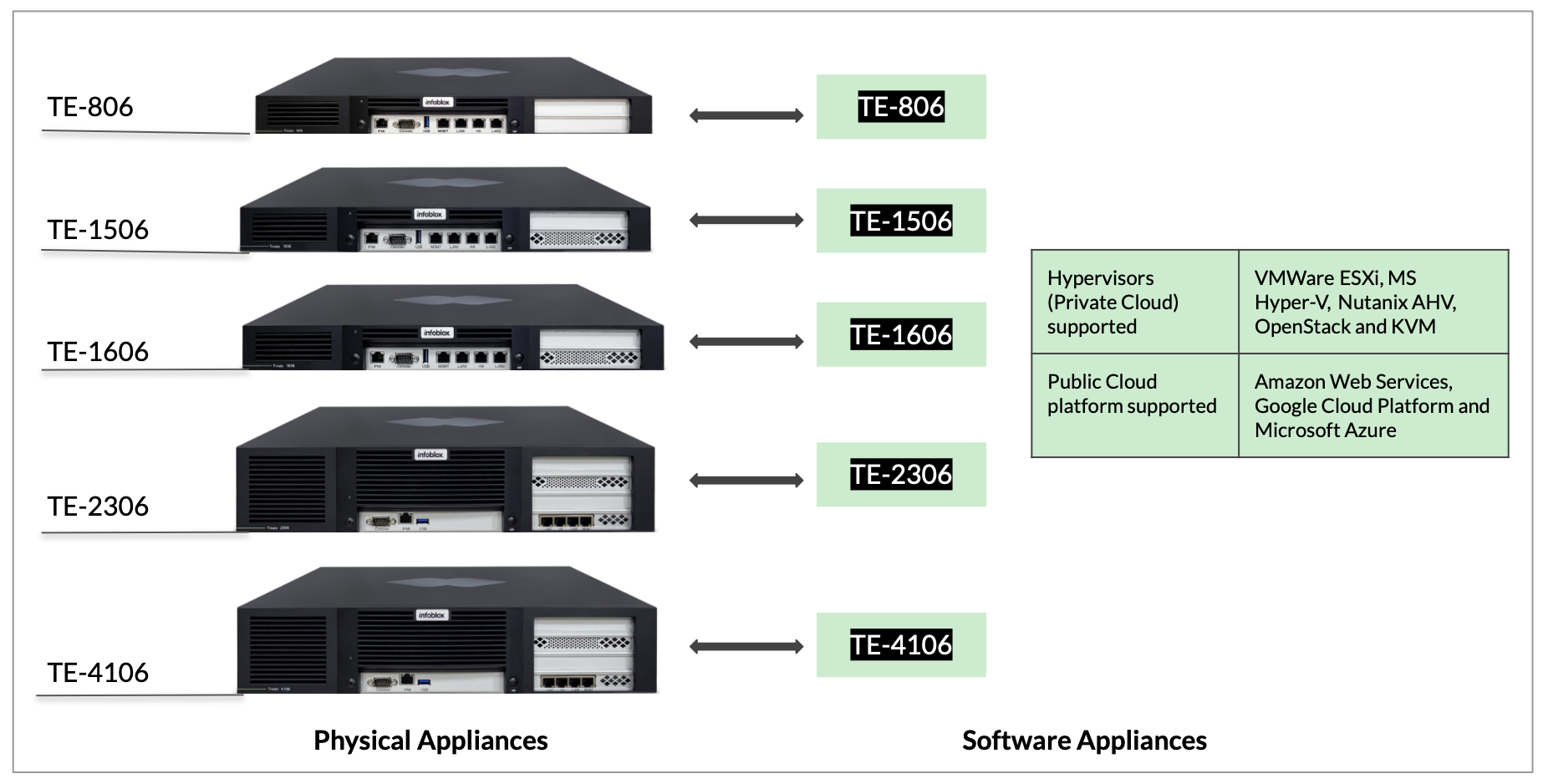 Check the datasheet to learn more about the technical specifications of software and physical appliances, software subscriptions and performance.
Enable Cloud Expansion: If you currently run cloud workloads or have planned initiatives for cloud migration, Trinzic X6 offers appliances and software to optimize and empower deployments on multi-cloud platforms, including Amazon Web Services, Microsoft Azure, Google Cloud Platform, Oracle Cloud Infrastructure, Nutanix, OpenShift OpenStack and VMware.
High Availability: Trinzic X6 appliances can be deployed individually or in a high-availability (HA) pair, leveraging Infoblox's Grid technology for optimal service resiliency. Trinzic X6 appliances support Lights Out Management for remote site communication and management.
Investment Protection: Trinzic X6 provides flexible choices and options to manage your existing critical network services. Trinzic X6 can host X6 or existing X5 software subscriptions. It also lets you convert X5 perpetual licenses to X6 subscriptions. You can combine Trinzic X5 and X6 for high-availability networks. BloxOne DDI subscriptions can also run on Trinzic X6.
Conclusion
Network scalability and security are becoming an ever-increasing challenge because of globalization, cloud expansion and advancements in BYOD, IoT and mobility technologies. As a market leader, Infoblox continues to innovate to address customer needs and support digital and cloud journeys. Trinzic X6 appliances improve visibility, automation and control with greater performance and capabilities in streamlined models optimized for the data center, cloud, remote sites and the edge of your network.
Trinzic X6 appliances are available for order on August 1, 2023, and will be generally available (GA) from August 21, 2023.